If you always find yourself rolling your eyes while you pull down your mask to unlock your iPhone, this one's for you. Apple's iOS 15.4 update includes facial recognition support for unlocking your iPhone, using payment apps, and authenticating applications, all while wearing a mask. The feature-packed iOS 15.4 was launched on March 14 and includes a host of new features, such as bolstered privacy settings, the option to use Face ID with a mask, Universal Control, and so much more. The Face ID feature has been updated for users with an iPhone 12 or newer.
Since the new facial recognition feature allows users to control their devices with a smaller portion of their face to verify, specifically the area around their eyes, you'll need to be more precise and hold the camera at the right angle. The facial recognition feature also works with glasses, but not with sunglasses yet. Hey, maybe that'll be something to look forward to in the next updates!
You Don't Have to Pull Down Your Mask
Setting up facial recognition to support masks is as easy as the first time you enabled Face ID, and you don't even need to wear a mask! Follow these steps to set up the Face ID with face mask feature.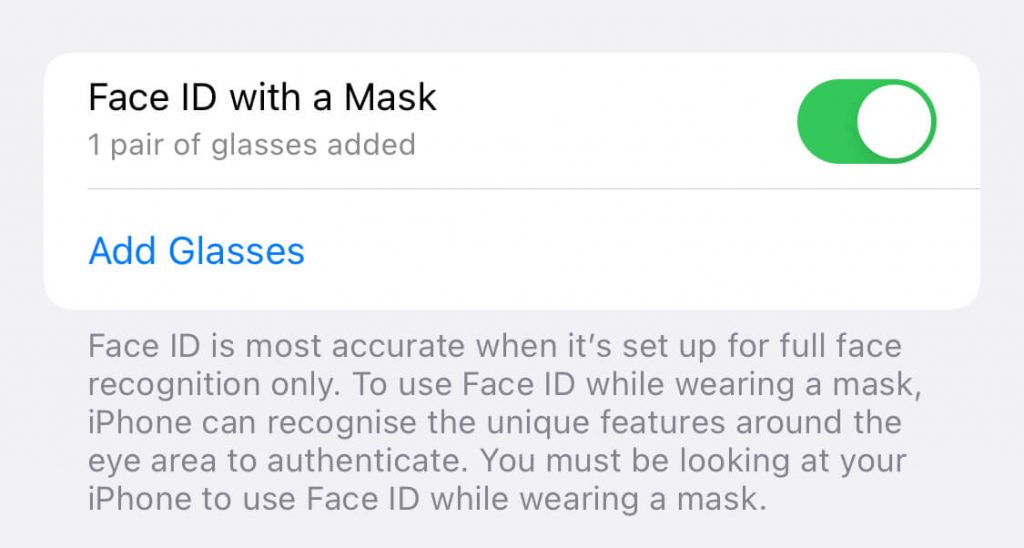 Make sure your iPhone (12 and onwards) has been updated to iOS 15.4 or newer.
Open Settings on your iPhone, then tap on Face ID & Passcode.
Enter your passcode.
Scroll down and activate the Face ID with a Mask option.
Now follow the onscreen instructions to set up Face ID using the same face scan process as before.
You can also unlock your iPhone more reliably with your Apple Watch while wearing a face mask. Of course, not everyone has one! For those of us in the latter camp, this is a necessary feature.
Also Wear Glasses? Add Them to Face ID
If you're an iPhone user who wears glasses, you can further increase the accuracy of facial detection by adding them to Face ID. Here's how:
Below the Face ID with a Mask option in Face ID & Passcode settings, tap on Add Glasses. You can add up to four pairs of glasses with Face ID.
Continue when prompted and follow the onscreen instructions.
This long-awaited update has drastically reduced Face ID hassles faced by users since the beginning of the pandemic. Even though the feature is currently only available to users with the iPhone 12 series or newer models, it's still a welcome change for Apple users across the globe. Now, if only Apple could get Face ID with Mask to work more than 1 out of 3 times! Still, we'll take what we get.