It's here! It's finally here! There's a lot to celebrate in the latest iOS 15.4 beta update, but let's start with how we can finally unlock our iPhones with a mask on without having to depend on our Apple Watch. Okay, it's only here for those of us testing the iOS beta, but those without have something to look forward to with the upcoming update. Besides Face ID with Mask, iOS 15.4 also brings Universal Control, wonderful new emojis, and more. Check out the full list below.
Universal Control Is Here at Long Last
Despite being one of the most hyped features coming with macOS Monterey and iPadOS 15, we didn't see Universal Control until more than 3 months after the release of macOS Monterey. Still, better late than never. With the first beta of macOS Monterey 12.3, Apple has given us a peek at how Universal Control works.
If you're wondering what it is, it's basically a feature that lets you use your mac trackpad with other Apple devices like iPad and iMac when within 10 metres of each other, facilitating easy multitasking between devices. To use this feature, you must be running the current macOS Monterey 12.3 and iPadOS 15.4 beta versions on compatible devices.
Compatible devices include:
Macs: MacBook Pro (2016 and later), MacBook (2016 and later), MacBook Air (2018 and later), iMac (2017 and later), iMac (Retina 5K, 27-inch, Late 2015), iMac Pro, Mac mini (2018 or later), and 2019 Mac Pro.
iPad: iPad Pro, iPad Air (3rd gen or later), iPad (6th gen or later), and the iPad mini (5th gen and later).
Finally, Face ID with Mask
Besides Universal Control, iOS 15.4 brings one feature I'm more excited about this one feature than any other. Yes, we will finally be able to unlock our iPhones without having to take off our masks, use our Apple Watch, or input the passcode – all incredibly inconvenient options.
With iOS 15.4 beta, Apple has enabled a feature that pays more attention to your eye area to recognise you. When you first turn on your iPhone after updating to iOS 15.4, it'll show you a prompt asking to set up Face ID with a Mask. The message reads:
Face ID is most accurate when it's set up for full-face recognition only. To use Face ID while wearing a mask, iPhone can recognise the unique features around the eye area to authenticate.
With this, you can set up Face ID both with and without a mask on. Four-eyes like me also now have the ability to set Face ID both with and without glasses for higher accuracy. The company's message says:

Using Face ID while wearing a mask works best when it's set up to recognise each pair of glasses you wear regularly. Face ID with a mask doesn't support sunglasses.
New Emojis! Thirty-Seven of Them!
Emoji lovers, it's time to get excited, as we have 37 new emojis and 2 emoji updates to play around with coming in iOS 15.4. From new skin colour variations (representation, yay!) to a fresh way to express how my battery is always low, the new emojis are pretty damn cool. Here's a list of the new emojis: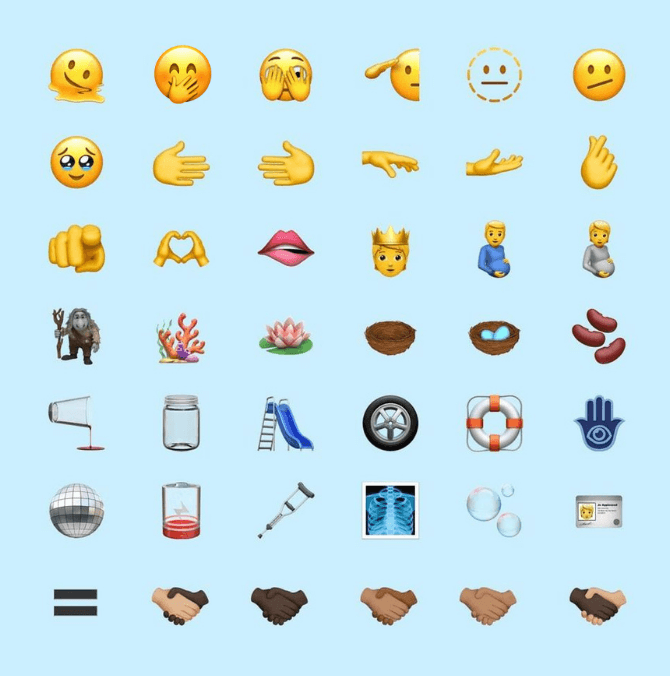 Melting Face
Face with Open Eyes and Hand Over Mouth / Face with Hand Over Mouth
Face with Peeking Eye
Saluting Face
Dotted Line Face
Face with Diagonal Mouth
Face Holding Back Tears
Rightwards Hand
Leftwards Hand
Palm Down Hand
Palm Up Hand
Hand with Index Finger and Thumb Crossed
Index Pointing at the Viewer
Heart Hands
Biting Lip
Person with Crown
Pregnant Man
Pregnant Person
Troll
Coral
Lotus
Empty Nest
Nest with Eggs
Beans
Pouring Liquid
Jar
Playground Slide
Wheel
Ring Buoy
Hamsa
Mirror Ball
Low Battery
Crutch
X-Ray
Bubbles
Identification Card
Heavy Equals Sign
New Handshake Colours
More Power to Passwords
Can't believe it took so long to get here, but with iOS 15.4, we can finally add accompanying notes to our iCloud Keychain passwords. No more guesswork over usernames, email addresses, and multiple accounts that didn't save properly and you forgot about them. Hurray!
Apple's also added "passkey technology preview" support, which will enable "signing in to passkey-compatible websites and apps on Mac and iPad using an iPhone with a saved passkey."
There's More
Besides these, Apple's added a few more features, including:
A SharePlay option in the in-built share sheet for apps that support SharePlay, so you can start a session from the app itself.
(R) / (L) letters and charging icon animations in the AirPods floating card display individual buds' status.
An option to switch off notifications for when Automations are triggered in the Shortcuts app.
Support for the adaptive trigger firmware features of Sony's DualSense controllers.
An easy way to connect your Apple TV to outside networks that require additional steps, like hotels or dorms, with your iPhone or iPad.
A Keyboard Brightness option in iPadOS 15.4 that you can add to the Control Center.
Choice between displaying a "Still Frame" or "Poster Art" on the Apple TV app for "Up Next".
Gesture controls for left and right corner swipes in the Notes app, which you can set to open a Quick Note, take a Screenshot, or turn it off.
Not available in India, but Apple's added Wallet support for verifiable vaccination records.
Another feature Indian users won't be able to enjoy yet is a widget for Apple Card, which has arrived with this new update.
New options for developers to set network preferences, test billing and pricing simulations, offer codes, and more.
Users with iPhones that support ProMotion displays (currently only iPhone 13 Pro and Pro Max) will finally be able to see all animations at up to 120Hz in third-party apps.
So here was a lowdown on everything iOS 15.4 brings for those brave enough for the beta, from universal control and new emojis to other smaller but essential updates. With all these new features, we're expecting a longer beta run for this one. Which ones are you most looking forward to? Or have you already downloaded the beta? Let us know in the comments!