Where does your data go after you die? I'm sure this is one question that everyone's spent long hours pondering before. Your pictures, videos, messages, emails, and all the personal data we protect so desperately while we're amongst the living… what happens to it when we aren't anymore? Well, mostly, it just stays where it is, accessible to the people it was already accessible to. However, with Apple's Digital Legacy feature in iOS 15, they're giving you a bit more control.
Apple's Digital Legacy plan enters the chat
Apple's not the first to enter this territory. Many platforms have some form of rules in place for digital inheritance and/or memorialisation. Facebook, for one, allows users to appoint legacy contacts who can manage users' memorialised pages after they pass away. On Google, users can appoint Inactive Account Managers, who are notified when an account is inactive for a certain period of time. In certain cases, immediate family members may even be able to obtain content from their account.
However, most platforms have a policy for deleting accounts and data, more than providing access to it. Which is fair, in a way! I'm sure no one wants to have their sensitive or embarrassing data out in the open. I sure as heck would not want anyone reading my messages after I die… Think of everything they could find!
However, there exists a case for loved ones who want to access their family member or friend's pictures, or partners who need certain information from their devices but don't have access to it. And that's where Apple's Digital Legacy plan comes in.
How does Digital Legacy work?
Arriving with iOS 15.2, this feature will allow you to nominate up to 5 trusted contacts to have access to some of your data after you die. This includes data like photos, documents, purchases, and even emails.
But don't worry, this doesn't mean you're giving full reign of your data to someone. According to Apple, certain types of data will still be private — much like Facebook decided to keep messages confidential. However, Apple has not clarified exactly which content Legacy Contacts will have access to yet.
For now, Apple's iCloud terms and conditions say this:
With Digital Legacy, you can choose to add one or more contacts to access and download certain data in your account after your death. If your designated contacts provide proof of death to Apple and have the required key, they will automatically obtain access to that certain account data and activation lock will be removed from all your devices. Thus, it is your responsibility to keep your Digital Legacy contacts up to date.
We can expect more details on this once the public update is released, and we will, of course, update those details here.
Setting up a Legacy Contact
The process to set up your Legacy Contacts is pretty simple. All you need to do is go to your Settings, appoint a contact, and share the access key with them. You can share that access key digitally, print it or save it as a PDF, and even include it in your will.
Here's how to set it up on a device running iOS 15.2:
Go to Settings > [your name] > Password & Security > Legacy Contact.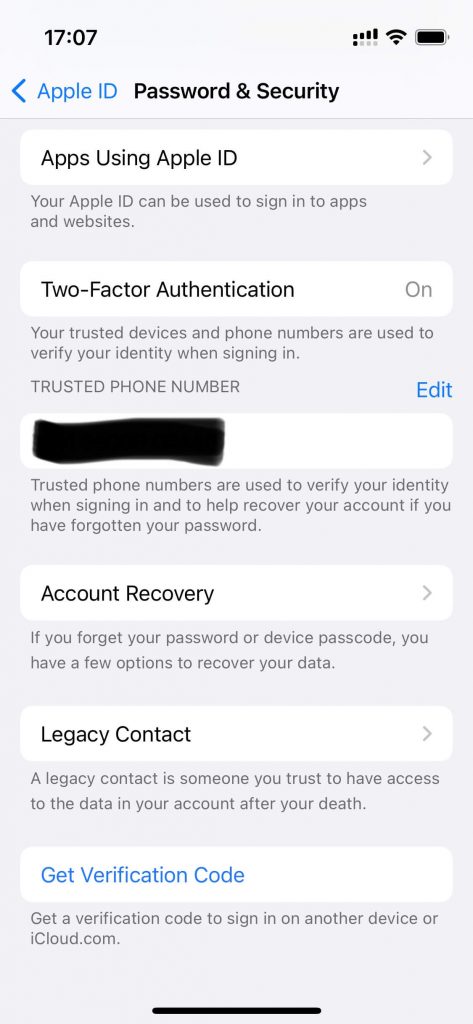 Follow the instructions to nominate trusted contacts. You can select members you've added to Family Sharing or choose someone else through their email or phone number.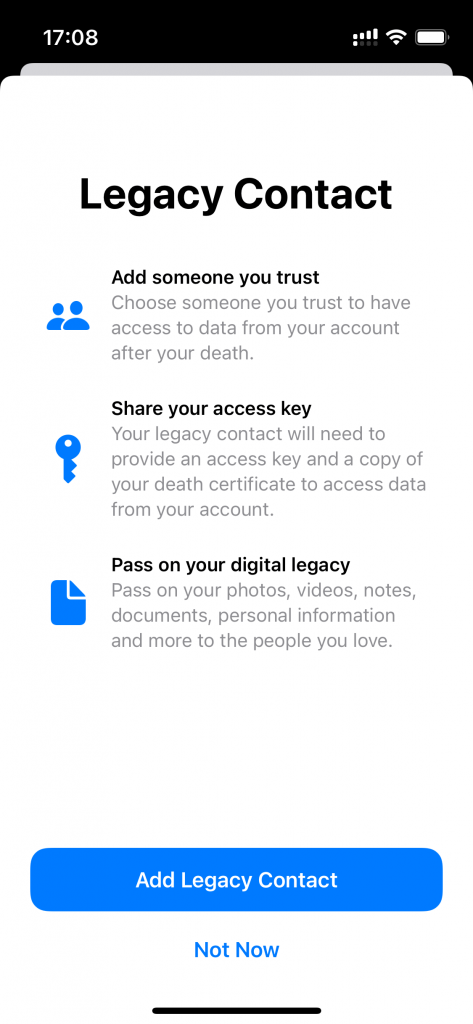 Share your access key with them by sending a message or printing a copy. Once they accept the Legacy Contact request, your access key will also get automatically stored in their own Legacy Contact settings. (Note: This only applies to users who are running iOS 15.2.)
And don't worry, they can only access your data by providing a death certificate along with the access key.
As I mentioned before, Digital Legacy will arrive with iOS 15.2, alongside other features like Hide My Email for the Mail app, communication safety updates for children (separate from the previous CSAM features that Apple's halted for now), AirTag updates to see which items are tracking you and to return lost items near you, and more.
Honestly, I'm pretty happy that Apple's included a policy on this, although I'm reserving judgement until the feature is here and we have more details. Let's be real; it's better to preemptively pick who gets to sift through our digital junk years from now than face having to posthumously embarrass ourselves in front of grieving loved ones. What do you think? Will you be appointing someone to manage your Apple and iCloud Digital Legacy, or would you rather it never sees the light of the day?